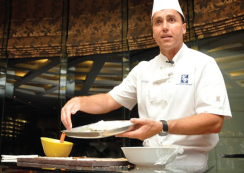 Cooking Demonstrations for 2016
2018 Cooking Demo Schedule will be available soon!
Come on down to the Perth Glendi Greek Festival and watch this great line up of cooking demonstrations.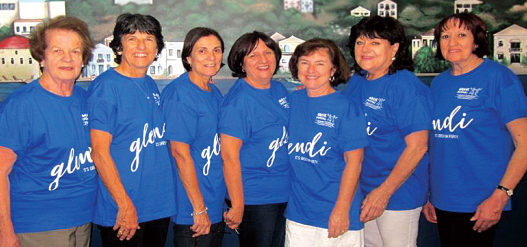 The Castellorizian Cooking Classes
The 'Cazzie Cooking Classes' commenced on Saturday, 11 June 2011 through the Castellorizian Association of WA. Sweets traditional to Castellorizo have been made plus other Greek sweets and savoury dishes at the classes. It's exciting and very rewarding that so much interest has been shown. From the classes a very popular recipe book, FROM OUR GREEK KITCHEN TO YOURS was launched recently and is available to purchase at this year's Glendi from the 'Castellorizian Zaharoplastia' – Greek Sweets marquee.
George Diakomichalis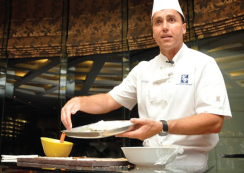 George Diakomichalis is a fourth generation Greek Pastry chef who heads the multi award winning business Kalymnos Pastries in Adelaide, South Australia.  He opened KP after he completed his training back in 1995 under the guidance of his grandfather and two uncles at his family's patisserie over in Kalymnos, Greece.  The first patisserie was established in Kalymnos by George's great grandfather in 1918, which is still currently operating.
George's goal is to help keep traditional Greek recipes alive and to inspire future generations.  He loves travelling this beautiful country of ours as well as other parts of the world whilst sharing the knowledge handed down to him from the generations above.
George believes we live in the best country in the world.  It allows us to keep the traditions of our greek heritage alive whilst living in this wonderful country Australia.
He has been the regular face on the dessert segment of channel 7's popular TV series 'Out Of The Blue', cooking traditional Greek desserts and adding his own unique twist to products regularly featured on the show.
This November George's online series 'It's All Greek To Me' will make its debut on Free to air television on Channel 7. 'It's All Greek To Me' is a lifestyle television programme that marries stories of Greek migration with the recipes that came with them.
George can't wait to cook up a storm at this year's Perth Glendi Festival and looks forward to meeting you all there.
Peter Manifis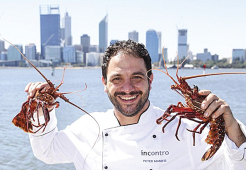 Award winning chef, son of a fisherman, passionate food lover, purveyor of fresh produce.
Peter has cultivated a genuine love of food over many years of cooking, fishing, foraging, learning and educating. He loves nothing more than inviting food lovers into his world to see the story behind WA's most beautiful and delicious produce and serving it up in his signature family table style.
Cooking Demonstrations 2016
1pm
George Diakomichalis (Hima Filla)
1.45pm
Phyllis Samiotis and Vanessa Kalaf are making Katoumari
2.30pm
Peter Manifis (Roast Merino Loin)
3.15pm
George Diakomichalis (Bougatsa)
3.45pm
Helen Anastasas, Deanne Bouhlas and Vanessa Kalaf are making 'Nifi's Halva'
4.30pm
Peter Manifis is cooking Greek inspired seafood
5.15pm
Peter Manifis & George Diakomichalis will be discussing modern Greek food vs traditional Greek cuisine